Uzbekistan - View from the Inside
Uzbekistan – enigmatic, breathtaking and awe-inspiring.
As a former Soviet republic state, I expected a country heavily influenced by Russian architecture and cuisine, I could not have been more mistaken!
With a diverse history and positioned at the centre of the ancient Silk Route, Uzbekistan is a melting pot of culture, flavours and architecture. From ornate madrasahs, towering fortresses and impressive mosques, you'll be mesmerised by the magnificence of this country.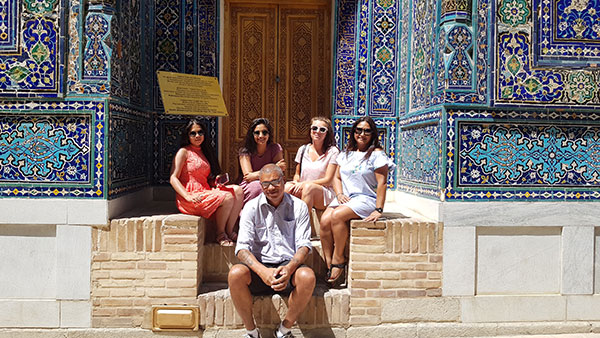 Beyond Tashkent's bustling city centre, reminiscent of the Soviet era is the 'Old City' where you'll find the oldest bazaar in Central Asia; Chorsu Bazaar with its famous green domed roof, selling a selection of spices, rice, nuts, honey, sweets, meats and plenty of exotic fruit. A short drive away is the Khasti-Imam Complex which houses the famous, preserved Quran of Caliph Uthman – Ottoman, believed to be the oldest in the world.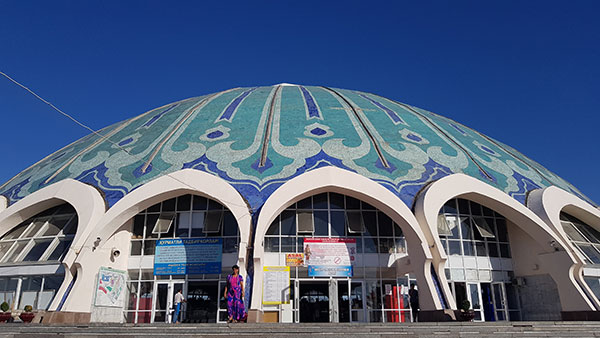 As we approached the complex, we oohed and aahed at the spectacle before us; blue domes, an imposing gateway with vibrant blue and white mosaics and a towering minaret, this is what we had been waiting for, we had 'officially' arrived in Uzbekistan!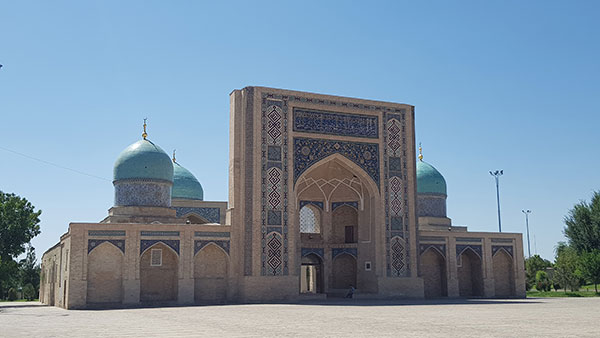 Our second day began with an early flight to Urgench for our next stop, the ancient city of Khiva. This UNESCO World Heritage site was an important trading post on the Silk Road due to its position between China and Rome, and has 54 historical and architectural monuments within the 2.2 km city wall. Wander through the narrow streets, visit the Juma Mosque with its 213 wooden pillars, each one unique and carved by individual craftsmen, some complete, some not; listen to enlivening stories about the King, his three wives and 40 concubines whilst standing in the airy courtyard of his harem, and climb up to the highest point in Khiva to experience breathtaking views and to soak in the beauty of this city.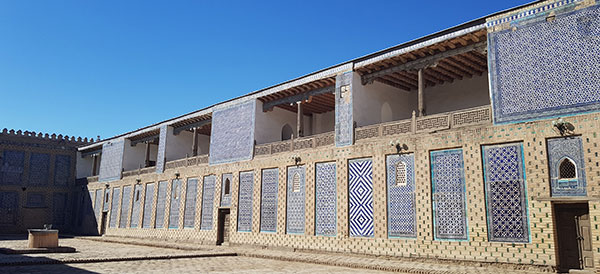 The next morning we embarked on a 7-hour drive to the holy city of Bukhara. The highway was, surprisingly, in good condition and less painstaking than I had heard or expected. We enjoyed views of vast desert landscapes and the spectacular mountain range of Turkmenistan in the distance.
We stayed at the Devon Begi hotel, a characteristic, heritage property situated in the heart of the city overlooking the Lyabi-Hauz complex and square, and very close to all of Bukhara's sites.
Here, we visited the Ismail Samani Mausoleum, Bolo Haus Mosque, the Ark Citadel and Zindan, Emir's Summer Palace, and the highlight of Bukhara, the majestic Poi Kalon Complex with its two grand and impressive mosque and madrasah entrances facing each other. We spent longer than expected here, captivated by the beauty of this incredible complex and taking hundreds of pictures.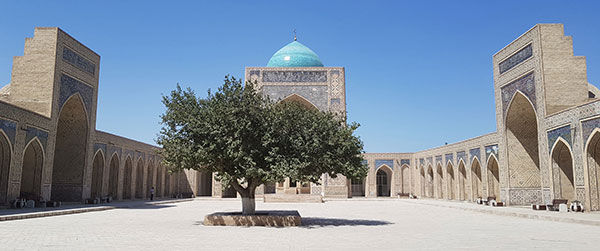 For lunch, we were served a special 'Pilov' meal cooked for us by a local family. Pilov is a delicious, traditional Uzbek dish made with rice, meat, garlic, carrots, raisins and spices. Every region prepares this dish differently, my favourite was the 'Bukhara Pilov', it was much more tastier!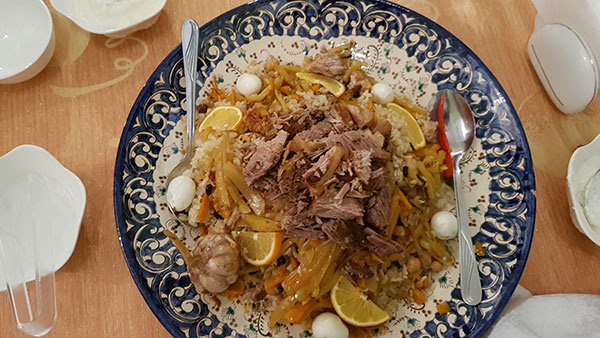 As we headed to Samarkand by road, a five hour journey on a bumpy highway, followed by a gravel track for approximately one hour, we anticipated what wonders would welcome us…for me, Samarkand was the highlight of the whole trip!
From the Ulug Beg Observatory to Gur-Emir Mausoleum with its azure fluted dome and intricate gilded interior, impressive Registan Square where we were lucky enough to see a sound and light show before dinner, and breathtaking Shah-i-Zinda with its intricate blue and turquoise tiled tombs. What a wonderful way to end our journey through this fascinating country!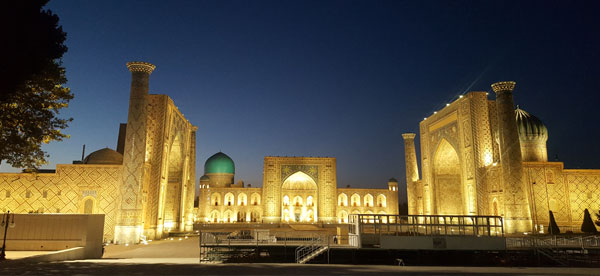 If you are considering a visit to Uzbekistan, do not hesitate, an explosion of colours, sights and tastes await…
Experience Uzbekistan on our Golden Road to Samarkand tour >