Peru - View from the Inside
Say the word "Peru" and Machu Picchu immediately springs to my mind! So, I was open-minded with what to expect as we travelled to Lima direct by British Airways from London Gatwick.
Our first overnight was spent in Lima before heading to Puerto Maldonado where a motorized boat took us closer to our Amazon adventure. After climbing 181 steps from the river bank to our lodge, we had our first photo opportunity as we spotted Spider Monkeys leaping in the trees above. Our rooms were open to the jungle!
While climbing to the top of the Canopy Tower at 120 feet, we got a real taste of the jungle and witnessed spectacular views at sunset. Equipped with torches, we were ready to look out for larger creatures! On Oxbow Lake, we spent time searching for its resident otters and fishing for piranhas. An unforgettable experience and one I will remember forever!

Next stop Sacred Valley via Cuzco – the valley lies between Cuzco and Machu Picchu. With altitude lower than Cuzco, it is a good location to acclimatize to the elevation. Visit to Awanakancha – a petting zoo and cultural learning centre. We enjoyed a tour in the company of alpacas, llamas, guanacos and vicunas plus we saw traditionally dressed women weaving and colouring their textiles. The views overlooking the valley are amazing.
A full-day guided tour of the Sacred Valley included magical Moray, an amazing Incan archaeological site which looks like an ancient Greek amphitheatre. Maras Salt Mines offer amazing views on the approach. With over 3000 salt pools owned by local families – each family is responsible for the upkeep and harvest of salt, which can be purchased in the local market! On a special visit to Maras, a typical and rural village; we were welcomed by a group of locals and guinea pigs for an introduction to their culture, customs and traditions that is dancing and the process of making ChiCha – a local beer from corn which once brewed, a flag is hung outside their home as it becomes a local pub – a great way to interact with the locals. Our final stop was Ollantaytambo ruins, one of the best preserved Incan ruins in the valley, as we climbed the stairs to the top in windy conditions to land on a great vantage point across the Sacred Valley.

Back to the historical capital city of Cuzco, among its ruins Sacsayhuaman stood out for me as it was impressive compared to other ruins. I really enjoyed walking around this beautiful city with its mix of cultures and architecture.
After a short transfer to the train station we boarded the Vistadome to Aguas Calientes, town which sits at the foot of Machu Picchu.The train journey offers spectacular views with its panoramic windows. From here there is a short bus ride to the site entrance and there are quite a few steps to navigate leading up to and around the site. No matter how many photos you've seen, nothing can prepare you for the reality and that first glimpse of the incredible citadel of Machu Picchu! It was breathtaking. There is no real way to explain it except to say "go see it for yourself"!

Our penultimate stop was to the highest navigable lake in the world, Lake Titicaca, with our hotel located on its shores. We visited two islands; Ulros and Taquile. Ulros – an interesting and very informative visit finding out more about these floating islands made of reeds, how they are made and maintained with friendly locals who invite you to enter their homes and try on their clothes!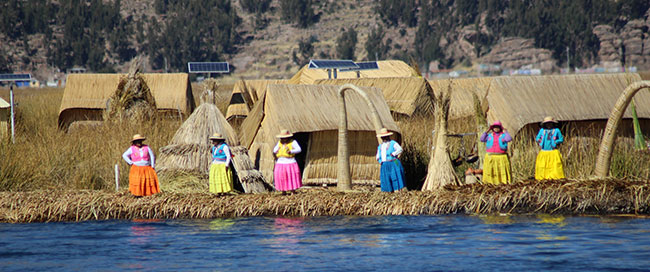 I loved Taquile Island – foot is the only mode of transport with some steep climbs up winding stone paths to the top – as it's the second highest point of altitude on the trip, I found the climbs quite demanding. Our guide offered us a small bunch of herbs to help with our breathing which was a welcome relief – views from the top are stunning! At lunch, we were served fresh trout from the lake with vegetables and rice – delicious and one of my favourite meals. Not to mention, the men knit and are very good at it. There is also an interesting explanation of the traditional clothing.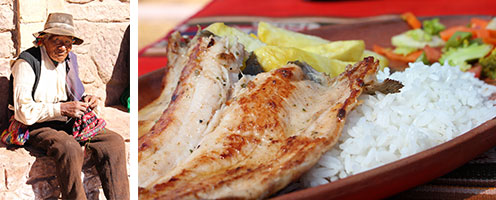 On our final night in Lima prior to our return flight, I really liked the Miraflores district where our hotel was located. There are some really nice parks in this area as well as beautiful views of the Pacific Ocean.
My advice would be to dress like an onion, the weather changes all the time and because of the altitude it can get quite chilly. Peru is an extraordinary destination.
Discover Peru for yourself on one of our comprehensive tours >