Morocco - View from the Inside
In November last year I was very lucky to be sent on a tour of Morocco. This was my first visit to Northern Africa and I didn't know what to expect. Our tour began in Marrakech, staying 3 nights in the luxurious Angsana Riads located in the maze-like alleys of the Old town; the Medina.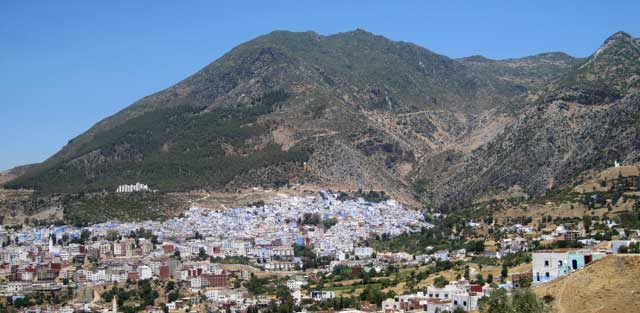 I was completely blown away by how lavish these riads are. Our rooms were individually decorated and full of traditional furniture which all adds to the charming character of the riads. The Angsana group own several riads inside the medina, 4 of which are all within a 1 minute walk of each other and share all of the different facilities, whether that be a roof garden, small plunge pools in the courtyard or spa facilities. Due to the design of the riad, a tall building with an internal courtyard, the riads stay wonderfully cool even at the hottest times of the year.
On day 2 of our trip we were taken to Bahia Palace, an enormous royal residence a short walk from our accommodation. This palace is ornately decorated with extraordinary mosaic designs covering the walls, floors and ceilings all depicting different scenes. Again, this is designed in the traditional riad style but on a much larger scale, with several courtyards all surrounded by many rooms which were built for the Grand Vizier to the Sultan to house his numerous wives and concubines.
After the palace, we were taken to the Koutoubia Mosque and Minaret, the tallest minaret in Marrakech which can be seen from all over city and is an excellent example of a traditional minaret which can be seen up and down Morocco.
Following this excursion we visited Jemma el Fna; the main square which leads to Marrakech's famed souks and market stalls. The square was completely alive with all sorts of bartering with locals and tourists alike buying all sorts of food stuffs, metal ware, leather goods and clothing. In the evening the square changes purpose altogether with dozens of pop-up restaurants, snake charmers, musicians, dancers and storytellers shows taking place.
After our time in Marrakech, it was time to move on to Casablanca. This is the industrial capital of Morocco and home to the largest shipping port in Africa. Casablanca has a very modern and practical feel about it, but does not contain a lot of sites for tourists to visit. We visited the Hassan II mosque, one of the world's largest and located rather dramatically on the coast, making it quite a stunning site. This mosque has a capacity for 105,000 worshippers which demonstrates just the sheer size of the religious site.
Following Casablanca we moved on to the official capital of Rabat, home to several fascinating sites including the mausoleum of Mohammad V, the final resting place of King Mohammad V and Hassan II, the present king's grandfather and father respectively; the Hassan Tower, an unfinished minaret that was intended to be part of the largest mosque; the ancient site of Sala Colonia, a Roman necropolis that was devastated and abandoned after the earthquake of Lisbon in 1755; and the Oudaya Kasbah, a UNESCO world heritage walled village where all the traditional homes are painted in an Andalusian white and blue style.


Next on our tour was a visit to Meknes, one of the Royal cities with its stunning medina walls and the Bab Mansour gate; a gate dating from the 17th century famed as being one of Morocco's most beautiful gates. This was followed by a visit to Volubilis, an ancient Roman site where up to 20,000 lived from 300BC until 1755. This well preserved site is full of colosseums and has many Roman roads and buildings still intact. Perhaps most impressive are the creative mosaic floors all depicting famous Roman mythology scenes.
After our day trip to Volubilis we arrived in Fez, the city that feels like much hasn't changed since the medieval ages. The old medina has a more authentic feel than that of Marrakech which seems manicured in comparison. The alleys around this medina are very narrow indeed and all travel takes place by foot, donkey or the sneaky motorbike. Fez is home to a fully working open-air tannery which produces a horrendous smell as well as all sorts of leather products. The locals' remedy to this is to hold a sprig of fresh mint in front of your nose which is surprisingly effective. Other than the hustle and bustle of the Medina, Fez is also home to Palace Dar el Batha, the Blue Gate and Qaraouyyin mosque which gives an interesting look into Morocco's distinct history.
We were fast coming to the end of the tour as we began our last long journey driving through the scenic Atlas Mountains travelling towards Tangier on the northern coast. En route to Tangier we stopped in the Spanish cities of Chefchaouen and Tetouan which are relics of Morocco's Spanish colonies. Spanish is the main spoken language in these pretty towns that are full of that Andalusian styled homes seen in Rabat which are painted half in blue and half in white. This provided an interesting break in our journey to Tangier and insight into Spanish parts of Morocco, whereas the southern area we had visited up until this point was predominantly colonial French.


We eventually arrived in Tangier for our last night which marks the point where the Mediterranean meets the Atlantic and Gibraltar can be seen on the horizon. Tangier was a contrast to Fez as it was a modern port city. We enjoyed our long-overdue rest in Tangier before a nice 2 and a half hour flight back to London.
Morocco is a wonderfully diverse country and offers such variety and contrast to Europe without having to fly to a long haul destination. It's also home to a delicious cuisine where tagines are the meal of the day and we enjoyed the most succulent lamb and chicken tagines mixed with apricots, dates, prunes along with cous cous and fresh fruit and vegetables at all meals. Then there is the people of Morocco themselves who are all welcoming, helpful and so enthusiastic to share what is a unique and diverse country and one I hope to visit again soon. "