The new normal of travel
You may recall seeing Jo, Senior Manager – Product, and Abbey, Agency Sales Manager at Jules Verne on our Facebook and Instagram platforms last month when they joined our very first overseas departure since October 2020.


Whilst on board the Spirit of Chartwell Jo and Abbey shared highlights as they enjoyed leisurely cruising on northern Portugal's Douro River. Here Abbey shares her experience of travelling within a group under the new travel norm, and what to expect on future tours.


Hans Christian Anderson once said, "To travel is to live", so when I was given the opportunity to travel once again with our first international departure in many, many months I felt alive again, and of course I jumped with excitement, loudly shouted yes and proceeded to locate and dust off my passport! But then it hit me; the little sense of worry, that little pang of doubt - for the last 18 months I had been told not to travel, albeit for a moment in 2020 when the world opened up for a small window of time; with the overall message that the world is closed and to stay home, it was only natural to have these feelings. But as one of our customers recently told me as we donned our masks on board the Péniche Raymonde - "a small inconvenience is a small price to pay to experience something so wonderful". This is so true, yes, we may have to complete a few forms and wear a mask in some places, we may even have to take a test, however, take it from me, it is worth it, so worth it.
I have been fortunate enough to accompany many of our Jules Verne customers on their travels over the years. Most recently I have travelled with two groups to Portugal and France, and I will soon be packing my suitcase again to re-visit the stunning Douro Valley with more like-minded travellers once again. Both times I have travelled the destinations have been on the Government Amber List and have had different entry requirements; Portugal required a pre-departure test, all travellers to have been fully vaccinated (14-day quarantine if not) and a Passenger Locator Form before arrival. France required a 'sworn statement' (déclaration sur l'honneur) along with proof of vaccination status, as well as a Passenger Locator Form.
For photos and videos from Jo and Abbey's Douro cruise, tap into our Instagram Stories Highlight - Royal Barge on the Douro, under our bio and above our Instagram feed to watch the journey any time you like. For photos and videos from on board the Péniche Raymonde on our Péniche Alsacienne barge cruise, tap into our Instagram Stories Highlight - Péniche Alsacienne.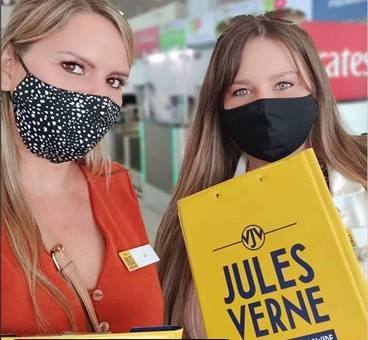 Abbey's Good to Knows…
Masks- In my experience, when on any form of transport including our private coaches, masks must be worn. Airlines require passengers to wear a mask throughout the flight unless eating and drinking. Most indoor visits on a Jules Verne tour require customers to wear a mask.
Sanitisation- You will find hand sanitation stations when entering the restaurants and bars, while on board our barges, and in a hotel.
Social Distancing- With an average group size of around 14, social distancing on our coaches, barges and while walking with the group is easily done. You can also enjoy all the benefits of forming a bubble with your fellow travellers.
Documentation – With the extra documentation including Passenger Locator Forms and proof of vaccination status, it can take a little longer to pass through check-in and the boarding gate. My advice is to be prepared and allow yourself a little bit more time for check-in and security, so you feel as relaxed as possible when in the departure lounge.
Travel insurance – Now more than ever, we need to emphasise the importance of good quality travel insurance that covers you for all eventualities from the time of booking a holiday.
Money – While most places in European cities have gone "cashless" you will still find some areas that we visit on Jules Verne tours that are slightly more remote and will accept cash. I would suggest still taking a small amount of cash in low denomination as well as still using a credit or debit card.
NHS App – Download the NHS app before you travel for ease of showing your fully vaccinated status and QR code, which is required before you are allowed to enter any establishments whilst away.
As travel continues to open up, we encourage you to plan ahead and book now for 2022. There's a whole world out there that is waiting to be re-discovered so make up for lost time and book something to look forward to with confidence.