The Bush Rover at Kensington Palace
The Tusk Ball
The Bush Rover at Kensington Palace
A prize fit for royalty!
Travelling all the way to the UK from Tanzania, the Bush Rover and our long standing partner, Tent with a View, were invited by the wildlife charity Tusk to the annual Tusk ball at Kensington Palace. They donated a Bush Rover safari experience for the auction which raised an incredible £32,000 for the charity!
Tusk was set up as a charity 30 years ago, initially to protect Africa's elephant and rhino from poaching. It has grown into an organisation which now tackles some of Africa's greatest conservation challenges from human-wildlife conflict and habitat loss as well as the ongoing challenge of poaching and the illegal wildlife trade. Tusk's royal patron Prince William said "now is not the time to be complacent... what Tusk has achieved in microcosm in a number of communities in Africa needs elevating to a much bigger scale". Should you wish to donate to this incredibly important cause, please visit Tusk's website.
The typical rainy London day did not detract attention from the Bush Rover Suite parked up and opened in its full glory between the Pavilion and the Kensington Palace state apartments. Whilst protocol prevents us from showing photos of some of the famous attendees swooning around the Bush Rover, the Tent With A View team were happy to pose at the event!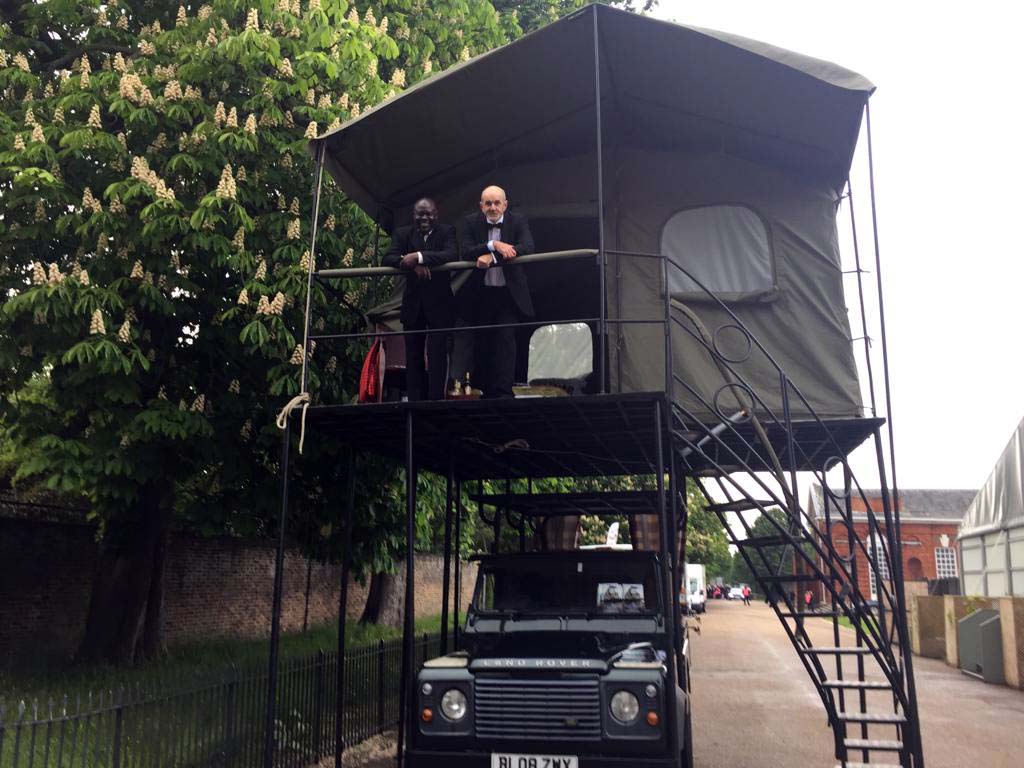 A Tent with a View started in 1995 when friends David Guthrie & Masa Kilanga (pictured above) started their own mobile safari company. David started as a wildlife guide in Selous Game Reserve, later becoming involved in various conservation projects including the lion research in Selous and anti-poaching projects at the Tanzania Elephant Protection Society (TEPS). David has worked tirelessly with the Tanzania National Parks Authority (TANAPA) on anti-poaching and set up a task force which was eventually involved in shaping government policy at Tanzania's Wildlife Division. David featured in the 2013 ground-breaking National Geographic film 'Battle for the Elephants' which focused on the slaughter of Africa's elephants for their tusks. These days David does not guide tours as often as he'd like but, with little convincing, he agreed to lead a small group on our Secret Migration itinerary, which will be launched soon.
Our safari exploring the Serengeti by Bush Rovers starts from £3495.
Keep up-to-date or get inspiration
With email or social