Kerala Style Fish Curry with Coconut Milk
Meen Molee
Kerala Style Fish Curry with Coconut Milk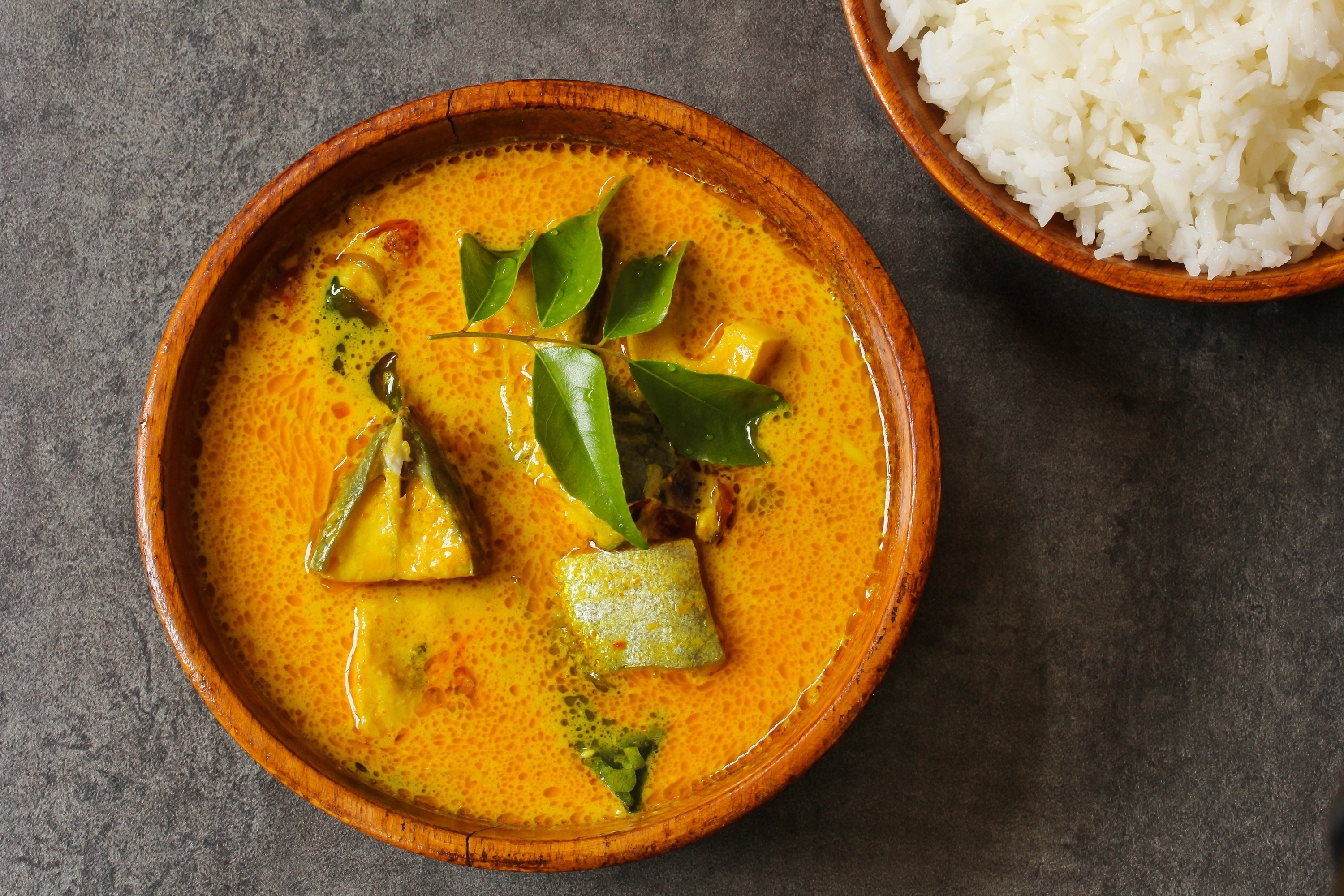 INGREDIENTS
4 to 5 Tilapia fillets, or any other similar fish fillets
¼ tsp turmeric powder
2 tsp lime juice
2 tsp red chilli powder
½ tsp salt
3-4 tsp Canola oil (to pan fry the fish)
1 red onion, chopped
2 or 3 green or Birds Eye chilies, stem removed and roughly chopped
2 inch piece of ginger
5 cloves of garlic
1 tsp coconut or vegetable oil
7 to 8 curry leaves
1 tsp lime juice
237ml coconut milk
118ml semi skimmed or coconut milk
INSTRUCTIONS
Cut each fish fillet into 3 inch pieces. Marinate the fillets in the turmeric powder, red chilli powder, 2 tsp lime juice and ½ tsp salt and keep aside for about half an hour or so.
Heat the Canola oil in a pan and fry the fish lightly on both sides. Now remove the fish from the pan and drain on paper towels.
Add the coconut (or vegetable) oil to the pan, heat it and add the chopped red onions and curry leaves.
Meanwhile, crush the ginger, garlic and green (or Birds Eye) chilies together using a mortar and pestle.
Add this crushed mix to the pan and sauté well.
Add the coconut milk (and semi skimmed milk if using) to the pan, let it almost come to a boil and add the fish to the pan slowly so as not to break them. Add a pinch of salt and the remaining 1tsp lime juice to taste. Lower the heat to low-medium and let it cook for 5 mins or so.
Serve hot with rice, appam, dosas or chapathis.
Keep up-to-date or get inspiration
With email or social