A traditional, deliciously creamy, highly aromatic and fragrant curry.
Lok Lak
One of the national dishes of Cambodia; a basic and simple dish, but absolutely full of flavour.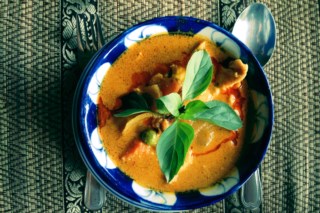 Serves 4-5
INGREDIENTS
3 tsp Senteurs d'Angkor curry spices
500g meat (chicken/beef/pork)
1 litre coconut milk
100g shallots (chopped)
200g carrots
400g potatoes
100g green beans
200g onions
Pinch of salt
INSTRUCTIONS
Heat a glass of coconut milk, the curry spices and shallots in a sauce-pan for 10 mins.

Add the meat and cook until the sauce thickens. Add carrots and potatoes, and cook for another 5 mins.

Pour in the remaining coconut milk and cook until boiling. Add green beans and onions. Boil for aprx. 20 mins.

Add salt to taste. Serve with hot rice.
Keep up-to-date or get inspiration
With email or social
Email Newsletter
Subscribe to our newsletter and receive news, reviews, offers, competitions and more from Jules Verne.