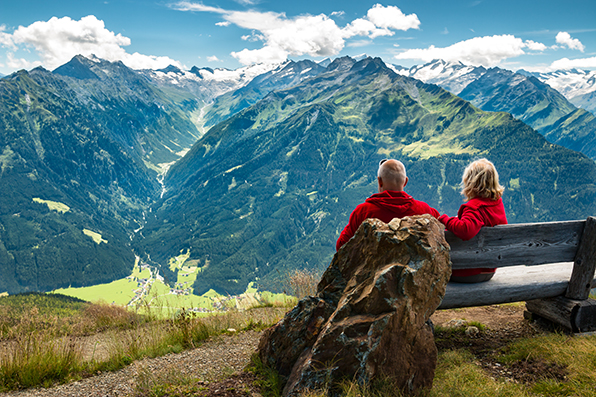 The very nature of a touring holiday is that it will involve activity. The amount of activity may range from leisurely strolling over easy ground to strenuous walks on rough or hilly terrain; from boarding coaches, trains, ships or safari jeeps to climbing stairs in vessels, hotels or landmark sites where lifts are not available; in short, from start to finish – so it's important, particularly for those with restricted mobility, to choose a manageable tour which fits your fitness levels.
We're happy to help you right at the planning stage. Just get in touch to let us know of any health issues you have which would affect your mobility, and any medical support, special requirements or assistance you may need. Our knowledgeable team will then check that your chosen tour meets your criteria.
We want your tour or cruise to be a complete success and we're aware that a small blip can make a huge difference to your holiday enjoyment; so we've put these notes together to outline aspects of touring for you to consider before you commit to booking.
GETTING THERE
For travellers who have a disability or reduced mobility, journeys by air may throw up a number of hurdles but most European airports and airlines provide Special Assistance to overcome them, offering support through the airport, boarding the aircraft, during the flight, disembarking and through the destination airport.
Special Assistance is available to support frail or elderly passengers, wheelchair users and others with a physical disability, and those whose social and/or communication skills are compromised by medical conditions. It is free of charge but must be arranged at least 48hrs in advance (and preferably at the time of booking with us).
Help begins at the airports' Assistance Point/s, which may be at a short-stay car park, bus terminal or drop-off point, but not at long-stay car parks. At UK airports, transport from these car parks to the terminal is generally in vehicles with ramp access for wheelchair users but, if you are dependent on this, we advise you to check with the relevant airport.
Travelling with a carer/companion who can give you the help you need will make an invaluable difference to your journey and may, for reasons of safety and individual circumstances, be demanded by the airline as a condition of travel. While the cost of the carer's ticket is your responsibility, the airline is required to make every effort to allocate adjacent seats for you, so do make them aware well in advance of your journey, even if you are not requesting Special Assistance from the airline.
If you use medical or mobility equipment, please advise us at the earliest opportunity, providing details including the make and model of your wheelchair/scooter, so that we can give timely notice to the airline to arrange safe loading and stowage. As there is no international rule regarding the type, size and amount of equipment which can be stowed, restrictions may vary from one airline to another, so it makes sense to confirm, as early as possible, that your equipment conforms with their policy. We will also need to check that the transfer and tour coach/es will have space for your mobility equipment.
If you may need oxygen on-board, please advise us so that we can check the airline's policy. Some will provide oxygen free of charge, others with a charge, and all will require prior advice if you wish to take your own Portable Oxygen Concentrator.
If you need a sizeable quantity of medications, please have a recently dated medical certificate with you in case the airline requires it. If your meds include more than 100mls in liquid form, you will definitely need to produce the certificate for Airport Security.
ON THE TOUR
While accessibility measures in the UK may be far from perfect, do be aware that they are infinitely better than in many of the countries visited on Jules Verne tours.
Hotels vary widely in the level of facilities available to assist guests with disabilities or reduced mobility. Contact us if you need any of the following facilities, and we will check with the hotel/s on your behalf:
Ground floor room if there are no lifts

Adapted room for wheelchair access

Walk-in shower

Fridge for medicines

Level access to restaurant/lounge
Cruises at sea often involve the use of tenders to shore and/or stepped gangplanks in port.
River cruisers frequently moor side-by-side on the water (rather than stern-to-port), requiring passengers to walk through two or more vessels when boarding or disembarking.
Small ships rarely feature lifts, and stairs between decks are often steep and narrow.
Coaches and trains are rarely equipped with ramp access, so travellers must be able to manage the steps (with the assistance of an able-bodied travelling companion). Restricted space on the transport generally dictates that wheelchairs or mobility scooters must be collapsible and, in some destinations where small vehicles are used, there may be restrictions on the type or size of mobility aid they can accommodate.
Tours and excursions may include travelling for several hours and will vary from panoramic viewing from the comfort of your seat, to easy-pace city sightseeing walks, or serious jungle or mountain treks. Our itineraries will give you a good idea of what each tour involves, but do call us to discuss the finer details, as these can make a world of difference.
Please note that, while our UK team will do all we can to smooth your path, our overseas guides and representatives, along with the hotel and transport staff, are unable to offer physical assistance or personal care. Please bear this in mind when choosing your tour and be aware that Jules Verne must reserve the right to request that you travel with a companion where we feel it is necessary for safety or operational reasons; and to decline the reservation if we reasonably consider that we are unable to accommodate your particular needs.